Bill O'Brien
---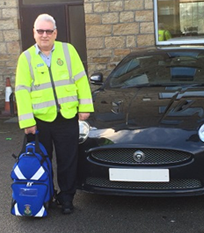 I noticed an appeal for CFRs in the Holmfirth area and made a mental note to find out a little more about it. Having volunteered for lots of different groups and participated in lots of different activities I considered the role of CFR to be a better use of my time and a more positive contribution to my local community.
The training was constructive, informative and comprehensive delivered with skill and consideration and culminating in an assessment that demonstrated the quality of the training as a pass was achieved.
Whilst the first few incidents were daunting the training ensured that the level of care was second nature and the support of RRV Paramedics and crews ensured a smooth transition from extreme novice to useful contributor and whilst most incidents required little more than TLC for the patient and the relatives they were a good exercise in information gathering which resulted in a better handover to attending clinicians. To leave a patient in the care of others knowing that they were in a much better situation than when you arrived at the job gives immense satisfaction.
To anybody considering training to become a CFR I would venture the following opinion (mine only) it is without doubt the most rewarding experience ever to bring comfort, concern and the ability to save a life into the lives of people who at the time are in a very difficult situation and who really need help. Even if that assistance does not bring a successful outcome a great deal of comfort can be shown to relatives and friends when they need it most.
If asked how much time it takes there is a simple answer, all time offered is gratefully received and it is surprising how much can happen in a short space of time, however the more time one books on call the more calls result and the more satisfaction for a job well done.
It becomes easy to fit the role into my daily life as I consider it a better use of my time by being booked on as I sit in front of the television or computer whiling away my leisure hours. I book on whenever I know I can turn out at a minutes notice and when I am sure it will not interfere with any of mine or my families plans.
I find it useful to discuss in advance any plans I have for booking on to make sure the family are happy that I may have to leave quickly and may be out some time. As I have a full time job available time during the working day is not usually an option for me however I am in the enviable position of running my own business so I can sometimes sneak the odd few hours to book on.
Most of my on call time tends to be evenings and weekends and I have even managed a few overnight stints by dozing in the chair suited and booted and ready to go. Establishing a rapport with the ARD controllers is a must and I have nothing but praise for their help and assistance and overall concern for my welfare and wellbeing. Likewise crews and RRV personnel who have taken the time and have had the patience to pass on knowledge and tips to make all our jobs easier.