David Jackson
---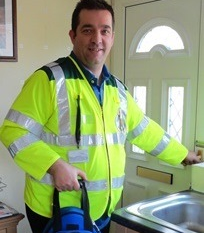 Why did you want to be a volunteer?
I became a volunteer after a man collapsed at an event I was DJing at. I used CPR but was not 100% sure I had done it right. The man was rushed to hospital and made a full recovery.
What do you do for a living?
I work fulltime as a Transport Administrator for Kingspan Insulated Panels in Sherburn, I also have my own Mobile Disco company and was proud to support the recent CFR Awards ceremony in York.
What do you get out of it?
I find responding very rewarding; the fact that you can make an enormous difference to someone's wellbeing just by being there is fantastic. It has also enabled me to be more confident dealing with people. I am lucky that my employer Kingspan Ltd recognises the importance of the scheme and allows me to be on-call while at work.
The support from the desk and trainers has been fantastic; it is good to know you are not alone if you get a difficult call.
What type of medical emergencies have you attended?
Over the last couple of years I have logged over 3,000 hours as a responder. In that time I have gained valuable experience treating all types of patients. I have used the defibrillator on more than one occasion and have had several calls where I have been on scene and on my own for some time. There have been a couple of incidents that stand out, but the best has to be when I was called out while at work in Sherburn. The patient was on a double decker bus that was coming through the village. While the incident turned out not to be serious I did receive a round of applause from the other passengers on the bus.