Mark Doram
---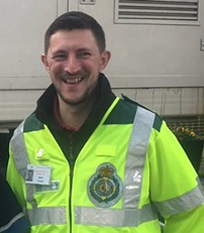 I became a CFR for a couple of reasons. I've always been involved in First Aid through work but I wanted to do something to help the public that I could fit around my life. Secondly, I wanted to give something back to the NHS who were amazing during a time of need.
I'd recommend being a CFR for loads of reasons. Firstly, you get to help people in your local area. The satisfaction you get to feel after helping someone (not necessarily a serious call) is brilliant. Sometimes, a grateful smile from a relative is all you need to know you've made a difference. You become part of a team with the rest of the Ambulance Service and there are opportunities to be involved in various events, such as Tour De France and Tour De Yorkshire where you work directly with front line Ambulance staff in front of thousands of people. By being a CFR you learn skills that can and will save lives locally.
The minimum commitment of 4 hours a week is easy to fit around my life, as long as I stay local I can pop and do some shopping or have a coffee with friends. I just make sure I have the kit with me so I can attend a job if I'm called upon. CFR's can volunteer their time at any time of the day so sometimes I will book on after work, over weekends or sometimes during the day if I am working from home.