Ralph Horn
---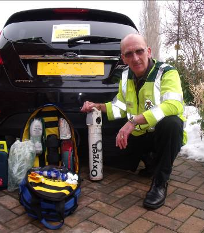 WHY DID YOU WANT TO BECOME A VOLUNTEER?
I have been a company first aider for many years and I felt that I could make a difference in the community through volunteering with the ambulance service.
Community First Responders (CFRs) can make a huge impact on the positive outcome of a seriously-ill patient.
WHAT DO YOU DO FOR A LIVING?
I am a recently-retired General Manager of an electronics manufacturer. I have spent my working life as an engineer then progressed into management.
WHAT DO YOU GET OUT OF VOLUNTEERING?
I get a great deal of satisfaction knowing that as a CFR I can possibly make a difference between life and death in a seriously-ill person and I will do everything I can to make that happen - that is why I volunteer.
I am entering my third year as a CFR with Yorkshire Ambulance Service NHS Trust (YAS) and have had the opportunity to attend further training courses. I have had tremendous support from all YAS staff, ranging from training staff and managers through to ambulance crews and paramedics.
If my community needs me I want to be there! If I need help doing this job, help is right behind me.
WHAT TYPE OF MEDICAL EMERGENCIES HAVE YOU ATTENDED?
Like any other job there are peaks and troughs and the number of calls can be relative to so many other deciding factors, for instance the weather. The cold weather can and does affect elderly people and brings on many health issues that need a response. The weather can also bring on things like breathing problems in young and elderly alike, again needing a response. I have attended many emergencies including, heart attacks, angina attacks, fitting, diabetes emergencies, breathing problems and panic attacks. 
A week can go by without a call and then I get three or four in one afternoon. I may be called by the emergency operations centre, but then I'm not needed on arrival at scene as the YAS responder does not need any assistance and they will stand me down. 50% of my calls mean I am first on scene which allows me to assess the patient and give the required assistance, then gather as much information as possible, such as name, age, symptoms, medication and what actions I have carried out since arriving, for the crew when they arrive.